The Olympus digital camera travel charger Stylus SH-60 is so compact and lightweight, you can take it anywhere.
Replacement for Olympus Stylus SH-60 Chargers – Olympus SH-60 Car Battery Charger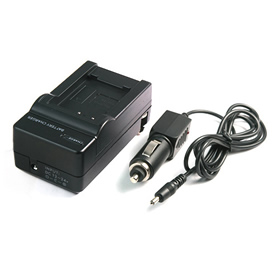 Work with:
Olympus SH-60
Charger Type:
Lithium-ion
Input:
AC 100V-240V, 50/60Hz, Max150mAh
Output:
DC 4.2V/8.4V, 600mAh
Accessories:
Stylus SH-60 Battery
Condition:
1 year warranty! 30% off!
Related Website:
Olympus Stylus SH-60 Charger Description:
With the powerful Olympus Stylus SH-60 charger there's no more waiting around for hours while the batteries are being powered up. This super-compact battery charger is perfect for home or travel. Keep Stylus SH-60 Lithium-ion rechargeable batteries charged and ready to go for your Olympus Stylus SH-60 digital camera and many other electronic devices. Keep your Olympus Stylus SH-60 battery charged so you never miss a moment!
Features:
- It has a rated input of 100V to 240V and can be used all over the world.
- AC/DC voltage output for both home and travel use. Car charger adapter included.
- Smart LED charging status indicator.(Red: Charging, Green: Fully Charged)
- The charger is for charging your Olympus Stylus SH-60 battery only. It does not work as AC adapter for your digital camera.
- 100% compatible with OEM charger.
- 1 year warranty!
- Note: We will ship the correct power cord and travel plug according to your country standard.
Buy Olympus SH-60 Charger and Olympus SH-60 Battery together Save US $3 !
+
Olympus Stylus SH-60 Battery
The smart and powerful Stylus SH-60 charger was specially created for the powerful Olympus SH-60 rechargeable Lithium-ion battery.
Olympus Stylus SH-60 Compatible Battery Codes:
Olympus LI-90B battery
Olympus Stylus SH-60 Charger Fits Camera Models:
Olympus Stylus SH-50
Olympus Stylus SH-60